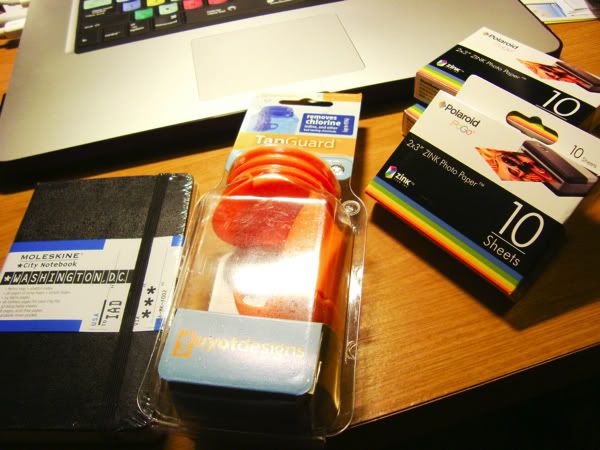 Just received today from Amazon: Moleskine City Notebooks edition: Washington, Guyot Designs TapGuard, and 3 packs of 10 Pogo Zink prints packs. These materials will be used for my trip to Washington D.C. with my girlfriend in end of May.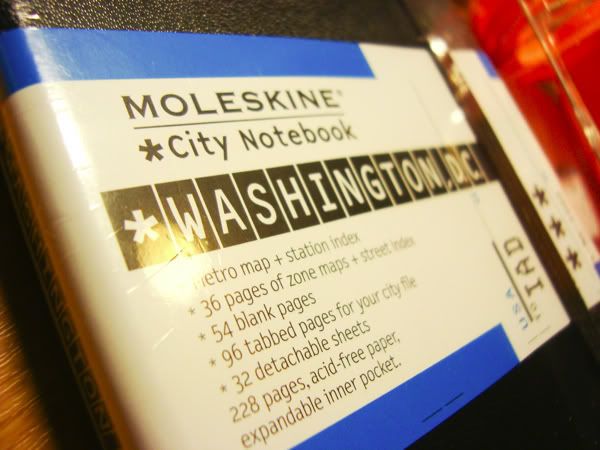 First off, the Moleskine to record everything for the trip: itinerary, places to go, contacts, maps of the area [including station index!], and space to write the experience and post pictures.
Cost: $12.21 [versus $17.99 in stores]
Guyot Designs TapGuard. This baby fits into wide bottle resueable bottles like my Nalgene bottle I already use and filters water from chlorine, iodine, and other bad tasting chemicals (up to 95%). By using this, according to its lovely package, you save 400 plastic bottles, 65 lbs of CO2, two gallons of oil, and $500 presumably from buying bottled water. The package also comes with two filter refills. My girlfriend too has a wide mouth Nalgene but we'll be using this to refill hers during our trip. With this lil thing, that means no buying bottled water there [or anywhere for that matter] = saving money!
Cost: $16.50
Lastly, I'll be using these sheets inconjuction with my
Polaroid Pogo
printer that has been on a haitus for the past few months. This trip though will surely determine its usefulness as I'll be printing out pictures and sticking it onto the Moleskine ala photo album.
Cost: $3.24 [versus $3.99] x 3 for total of 30 Sheets
Can't wait to embark on the adventures!