I completed a self portrait series for 1) practice with my new boom arm, 2) practice in general lighting, and 3) for my cousin's request of a [new] photo of me.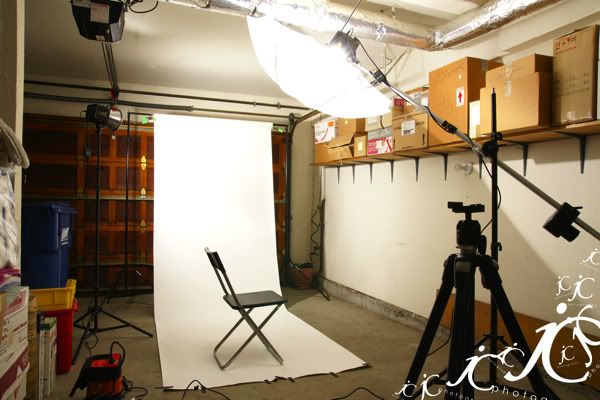 The Setup:
The first time I used my garage to take pictures and am only wondering why I haven't use it before. The only drawback is the low ceiling otherwise, this is what my set up looks like.
Equipment Used:
Alien Bees 400 strobe with standard 7" reflector
Alien Bees 800 strobe with 32" inch umbrella on Boom Arm [I hate attaching that 11lb counterweight]

Alien Bees Vagabond II Battery Pack

eBay heavy duty light stands
Clamps/Grips Home Depot
Calumet Photo seamless white background
Manfrotto tripod
Minolta IV Light Meter
Sony a700 + Tamron 17-50mm lens
Sony wireless remote trigger

I got lazy first of all so the white background is only lit by 1
Alien Bee 400 strobe
head [instead of the usual 2 on opposite sides to create an even background]. Connected to both strobes are
CyberSync
's to make sure it is triggered correctly from my camera. The
white seamless background
is from Calumet Photo in San Francisco for about $20. Clamps [green ones] are from Home Depot and are about $2 each instead of buying in camera specialty shops for about $6/each. The new boom arm I bought will allow me to take photos using overhead lighting without having a light stand in my way.
Here I am posing on my [client-autographed "Photograher's Chair"] triggered by the Sony remote [something you Canon and Nikon users don't have that comes in the box! =P haha] You can see that I'm holding in my right hand. The glasses are from Perpetual Kid online store. I've been using a photo of myself in 2006 as my avatar for many online sites which had a camera instead to cover my eyes.
The concept in short is that photographer's in general are known for their pictures and not themselves [at least initially]. I'd like to keep myself anonymous and let my work speak for myself with my name written all over it.
For anyone wanting to know the settings:
Background light set to f/16
Main Light set to f/8
Shutter speed 1/125
Aperture f/8

I'm planning to print [one of these] for my cousin and possibly wallets for myself. I don't know who to give it to but maybe use it for my senior pictures? haha jk. I might plan to blow it up and replace my 24x18 picture hanging above my bed of a previous concept I created.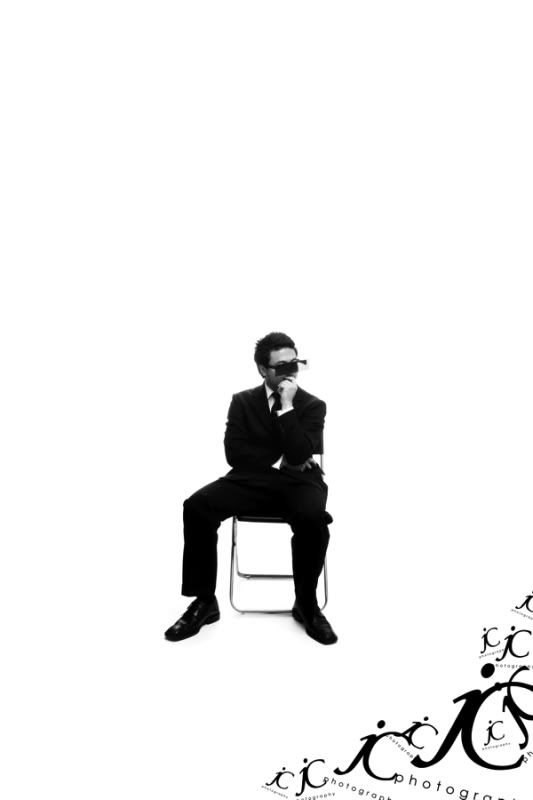 This is the photo from above's set up but finalized with the white background and black and white conversion.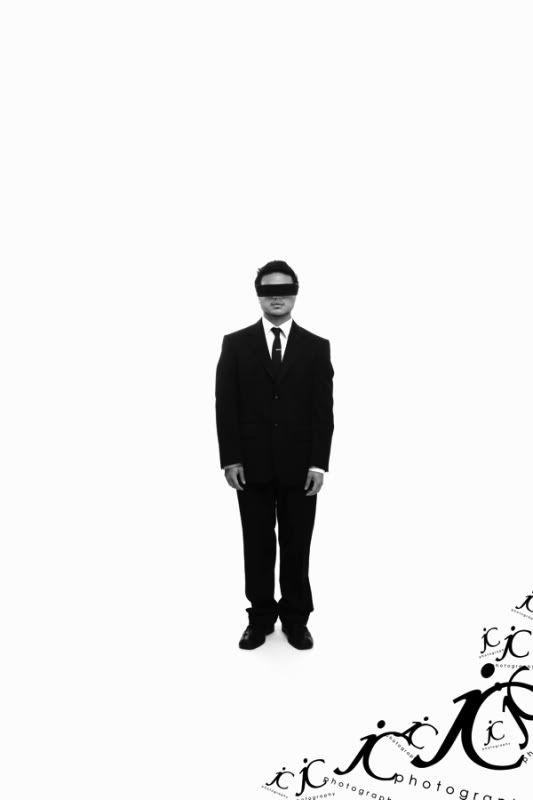 This happens to be my favorite tie by the way. So I tend to wear it a lot. [Look at the cotillio of Mary Ann below and I'm wearing it as well haha]
Thanks for the look and hope you enjoyed the post and its details.