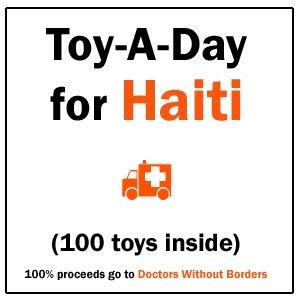 If anyone knows me they already know I follow too many blogs. One of them is
Toy-A-Day
to remind me the joys of once being a kid [and how simple and cool these paper toys are! My all time favorite is the
Frida
once since she's my all time favorite artist. And anyone of you out there who are gifted in transforming a
blank template
into something, he also offers that as well on the
blog site
].
Anyways,
Toy-A-Day
just recently
offered 100 toys on a CD [simply print and cut and glue] to you if you donate $5
in which
100% proceeds go to Doctors Without Borders
. If you haven't donated to the Haiti Relief Fund, do so and get a wicked CD with enough paper toys to run your ink dry. Plus, your younger brother, sister, niece, nephew, goddaughter, godson, etc will thoroughly enjoy these and also take part in making them!
Even if you have already donated,
$5 is nothing
[remember that fast food meal you just got? Sorry for the guilt trip... haha]
Here's his blog entry on the offer, but go ahead and
just visit his post
already:
By now, I believe we are all aware of the devastating plight of Haiti and the sufferings of its people. I am touched by the internet communities who are reaching out and giving a helping hand. As a fellow human being, the least I can do is to do my part too.





I will be selling the Toy-A-Day CD containing the PDF of 100 toys from the Toy-A-Day archives, with 100% proceeds going to

Doctors Without Borders

, which has been doing a great job bringing emergency medical care to earthquake survivors in Haiti.





The CD will be on sale for US$5 including shipping to anywhere in the world. Looking forward to your support!



CLICK TO BUY, DONATE, CUT, PASTE, AND HAVE FUN BY HELPING!!