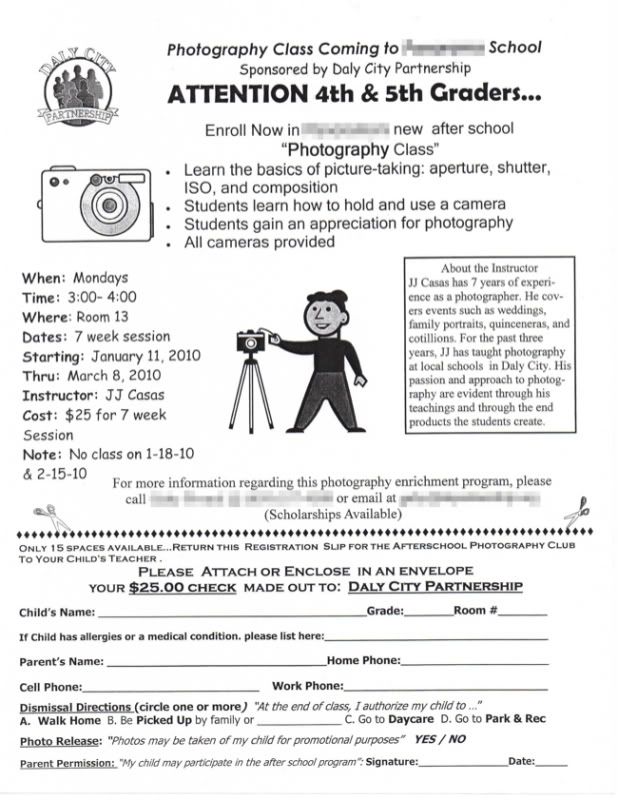 Ok ok, this really doesn't really apply to you unless you are a 4th or 5th grader. But I was inspired after that photography workshop to teach more people willing to learn photography as I did find a new
happiness
in teaching
others in something I'm passionate about.
Beginning Photography
is the name of the class I came up when I started teaching kids photography in various schools in Daly City. I haven't been back for a bit due to last year's unfortunate timing of schedules [and recession]. So I am definitely glad to be back on board as a teacher and
I'm hoping more kids
[or rather their parents]
sign up
so their kids can appreciate photography and just have fun learning and taking pictures.
Seeing kids grow quickly especially when they are learning and having fun at the same time is very rewarding. I can see why teachers love what they do no matter what level they are teaching.

To see the kids' past work, here are some albums I've posted up:

If you are interested in helping out, the least you can do is to support the Photography program in your nearby school. Non-existent? Propose it!

Another way is to support the program I am in! Contact me for details! jcasas[dot]photography[at] gmail.com