So after the great shoot with
The Foreign Exchange
and concert coverage that ended around 2am on Saturday, July 24th, I had to wake up by
7:45am
to pack the car and prep for the next shoot entitled
"John and Jane"
that features
MotionScope Studies
stylist
Jane Park
.
I only got about 3.5 hours max of sleep so excuse me if I look like crap. haha But I digress..
The concept of the shoot is to depict the classic boy meets girl story using one person--Jane. Meaning, from a fashion standpoint, it's going to be an androgynous shoot. Luckily, with the help of
My BF's Closet'
s
Jessica Phan
and
Agnes Fernandez
, things went a whole lot smoother in terms of styling Jane to portray "John" and "Jane."
Full Credits:
Talent: Jane Park
Photography: JJ Casas
Make Up: Karen Wan
Stylists: Jessica Phan & Agnes of Fernandez of
My BF's Closet
Stylist Assistant: Tristan Orlino
1st Assistant: John Enriquez
2nd Assistant: Rina Pera
BTS Photographer: Nicole Velazco
All photos by Nicole Velazco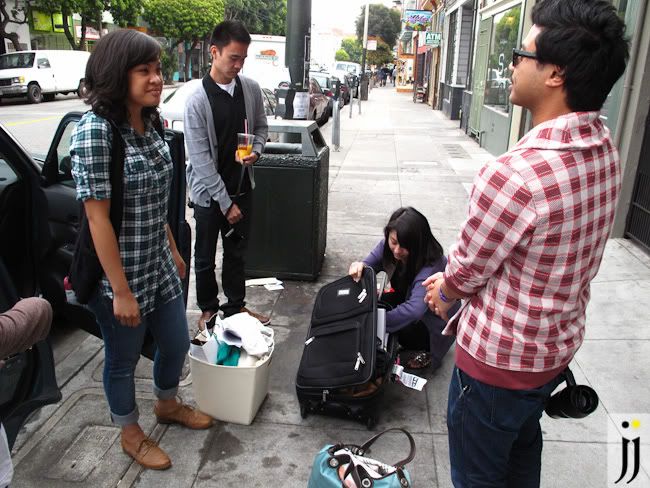 We definitely were on a tight schedule since I knew the complexities of this shoot: 4 different locations, nearly 7 different looks since Jane had to 2 outfit changes to portray John and Jane per location.
We arrive at
Frjtz Restaurant
and with the help of the owner Santiago, he allowed us to use the beautifully designed restaurant.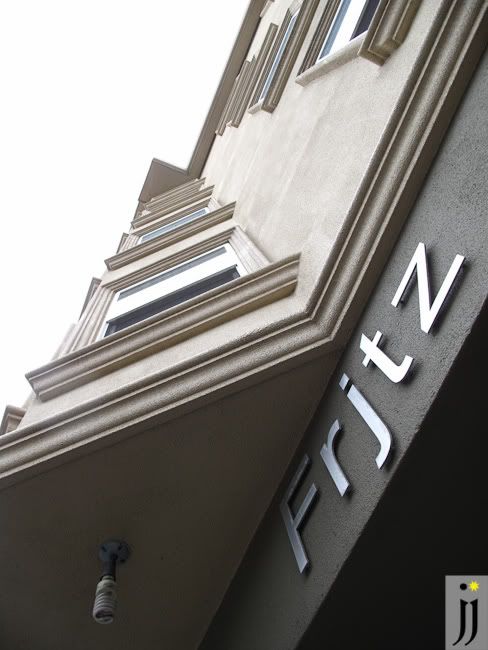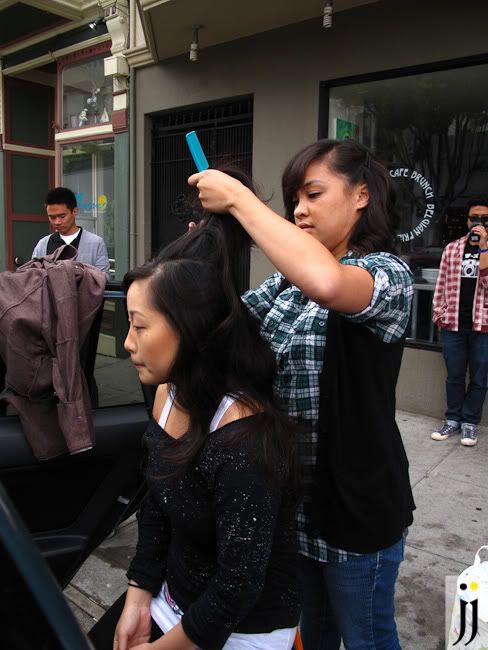 There was a slight miscommunication when Santiago thought we were shooting at Valencia's restaurant when we were all waiting at the Haye's restaurant by 8:50am. So while waiting, Karen started on the makeup as well as Agnes on the hair [pictured above].
Probably the best part of the day for me is when I get to just wait for the talent to get ready. =)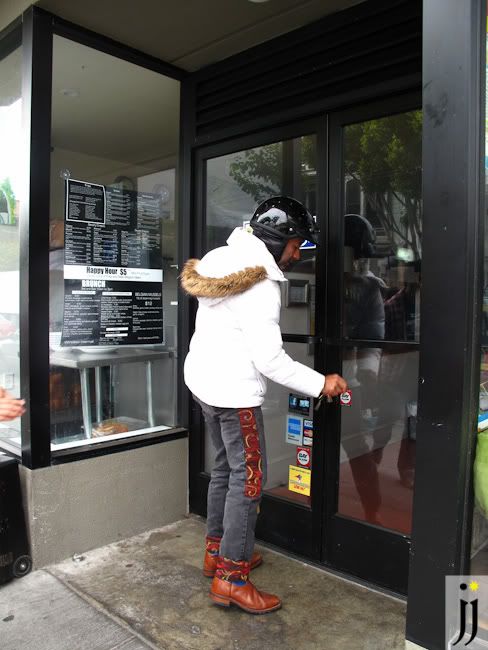 The owner comes in to unlock the doors and I must say, he's stylish himself showing up in his scooter and rocking those boots.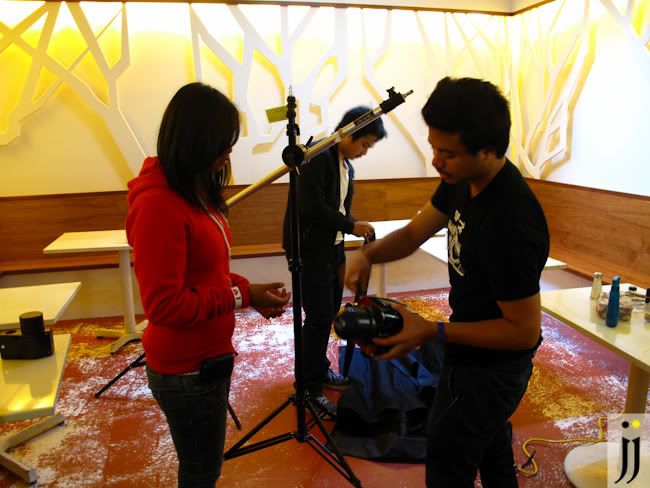 Once inside, we were strictly told I got an hour to get this going and here I am ensuring things can be set up as swiftly as possible.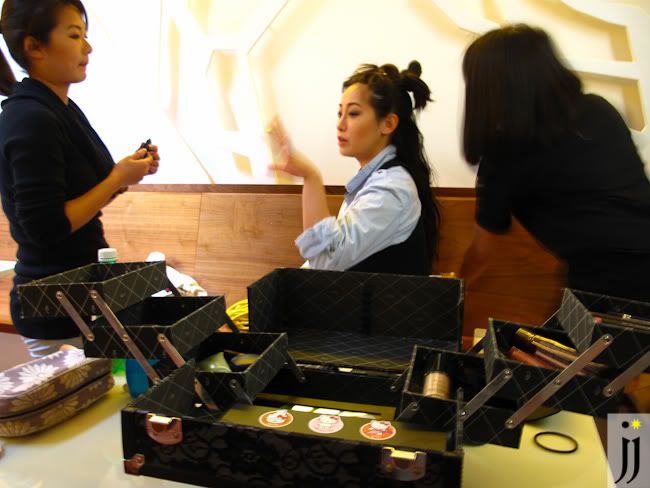 Karen [left] works on Jane becoming "John."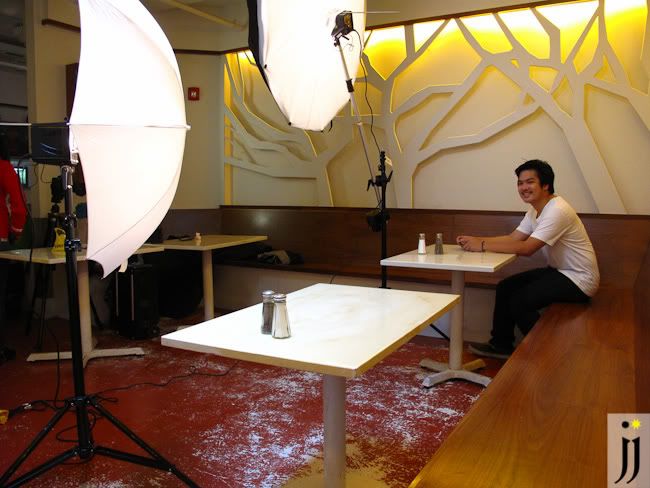 John [the real John...confusing I know..] stands in for Jane so I can get the lighting correct before Jane comes in for the real shoot.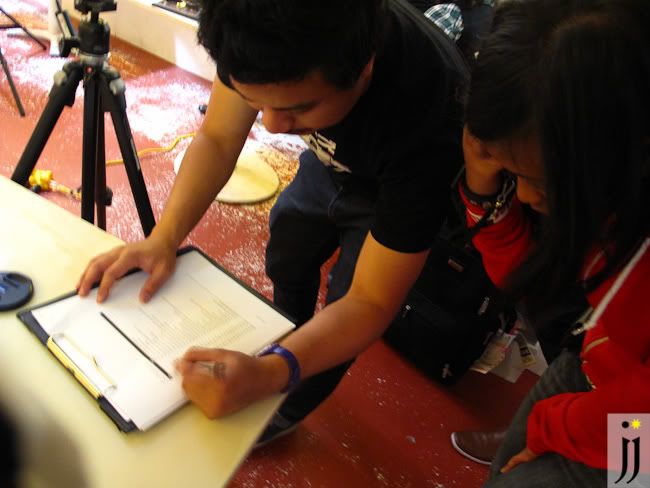 I make Rina, the new intern for
MSS
, in charge of time and scheduling of the shoot. It definitely helps when someone can keep track of time especially in critical times like this!
I pose for Jane to illustrate what I'd like to see for the shoot.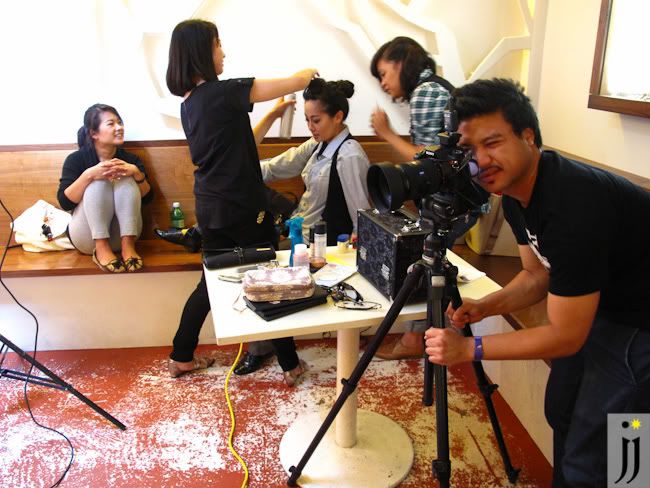 For this shoot, I actually use a tripod :gasp!: There's a reason to it and it will definitely come into hand when post-production comes into play when I produce the final spreads for this shoot.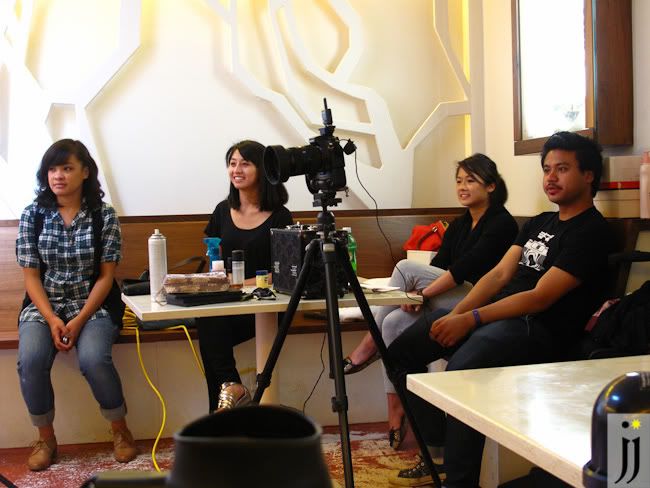 Luckily, I have my remote shutter so I can sit back and just direct Jane during the shoot.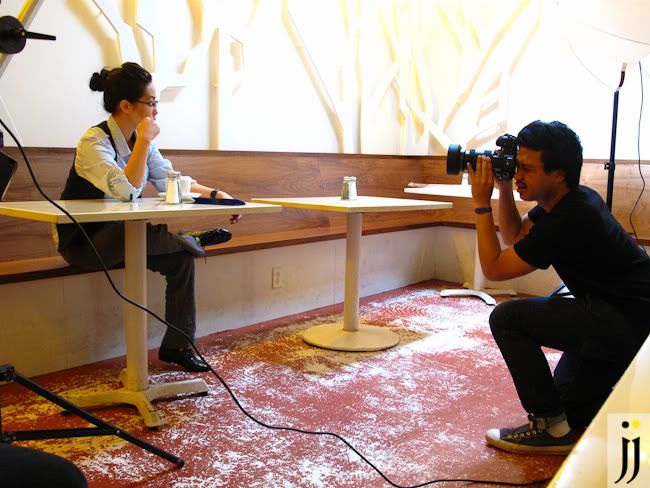 After taking some photos on the tripod, I proceed to get detailed shots.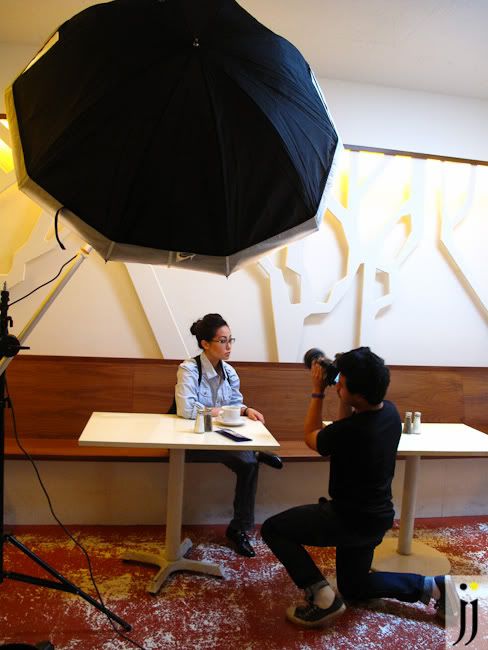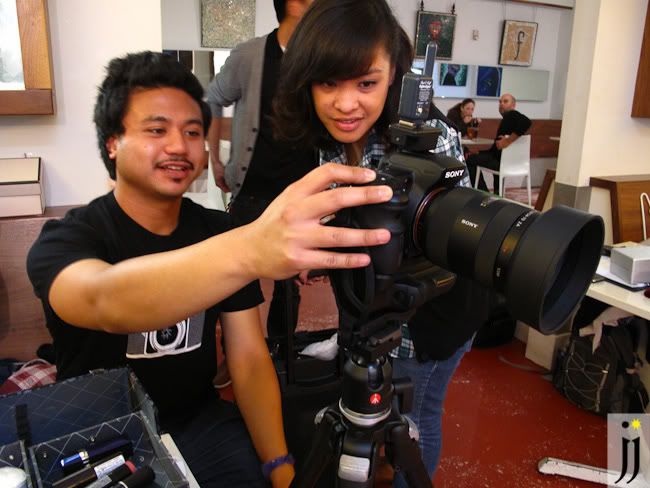 Agnes looking on to see what I'm seeing on my LCD screen.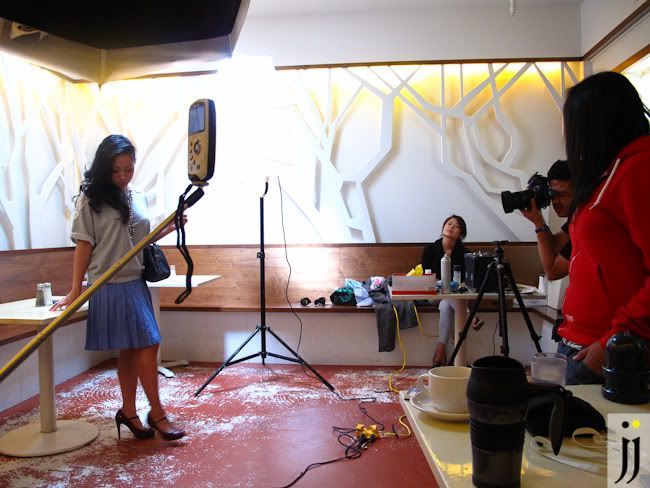 BTS video was also taken with my [waterproof] HD videocam.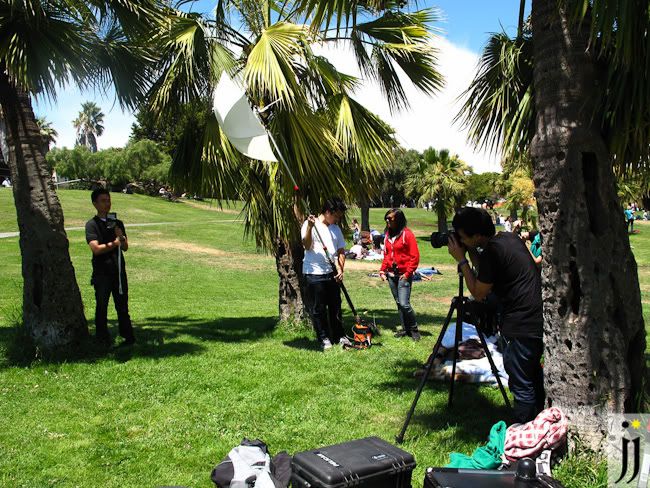 Next location is Mission Dolores and man what a nice day indeed!
After taking initial shots, I show Jane the turn out. We finish up here doing the poses needed and move on to the next location...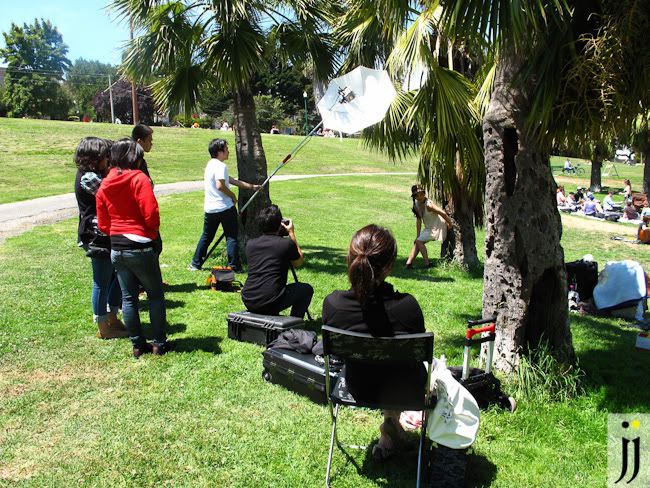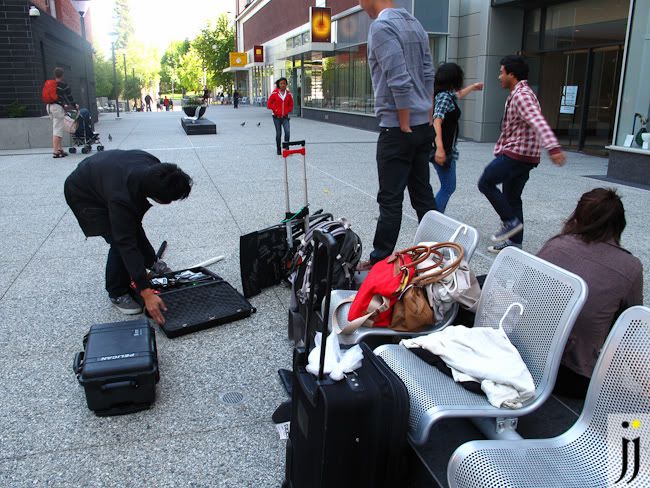 ...which is right near Contemporary Jewish Museum in SF! Passersby were definitely wondering what's going on. We also almost got kicked out by security since he asked for a permit and I couldn't provide one. Luckily, Jessica proved that she's an Academy of Art student and is working on a project. ;) Now that we were on the clear, we were good to continue!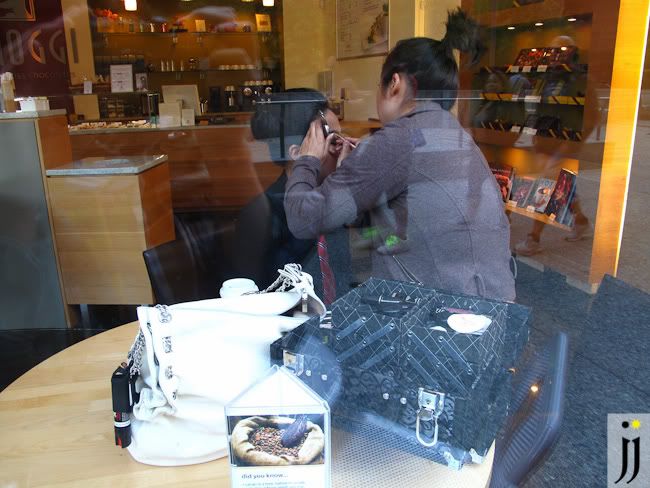 Our MUA [make up artist] was not feeling good in the day so I did tell her to chill at the nearby cafe [which we later got kicked out since the workers noticed she was doing makeup for Jane twice..hehe]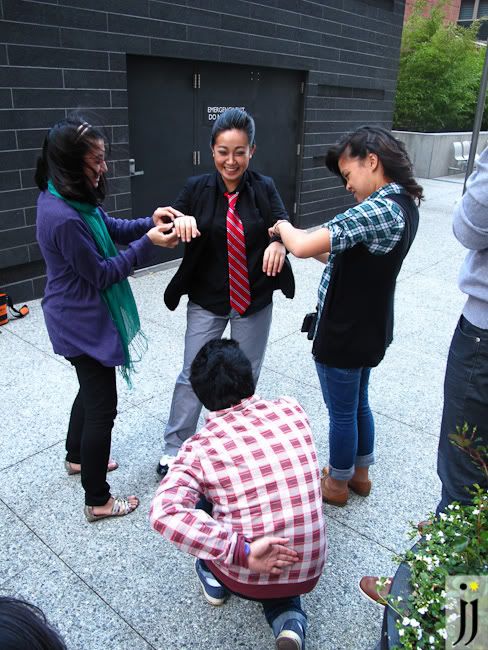 By this time, everyone's starting to get tired as we started officially at 8:45am and this here is about 1:45pm. I keep the team in cheerful spirits as I crack a joke to Jane as Jessica and Agnes assist Jane while I bow and pretend Jane is the queen and ask permission to photograph her. hehe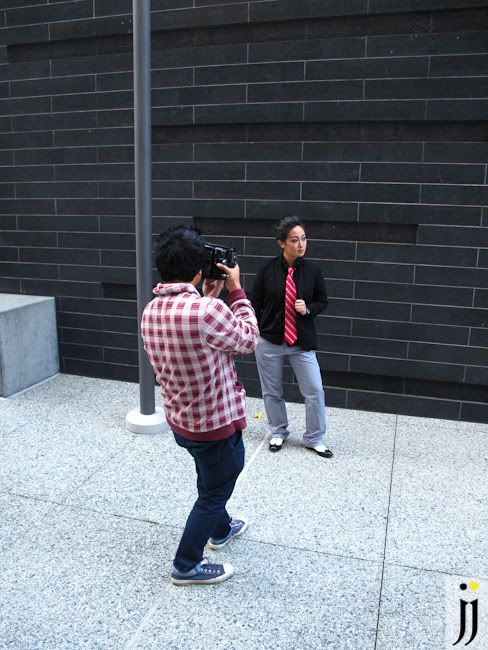 I take a few photos and move briskly as this area was so friggin cold! I definitely wanted to move as quickly as possible so we can get back to the sun and head to the last location.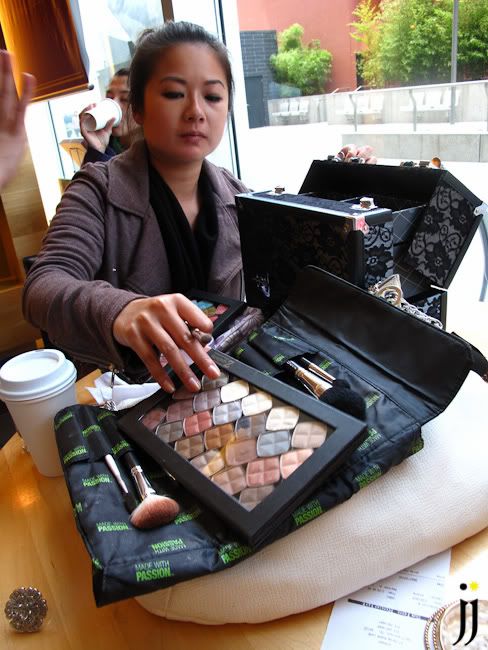 A picture of Karen toughening out for the day with her kit. Thanks Karen for doing this despite the unpleasant health status! =)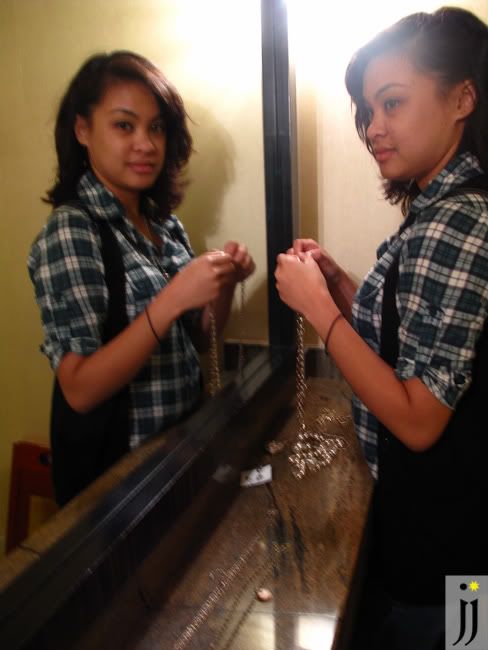 Agnes ensuring the accompanying jewelry goes well with Jane. I believe Nicole had "all-access" as this was taken in the bathroom of the hotel nearby that they used as a dressing room.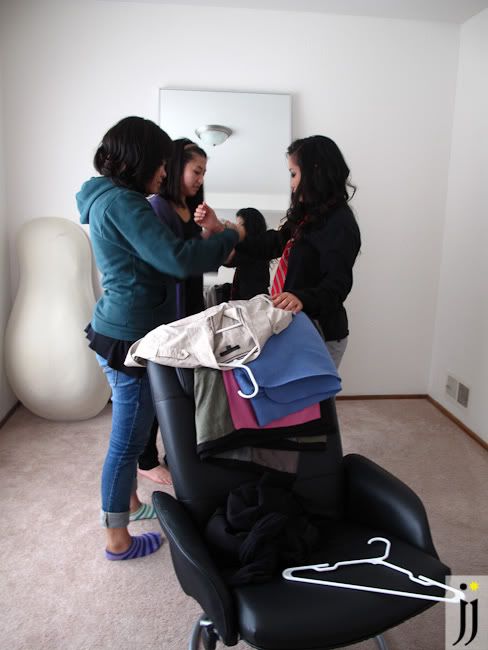 The last location of the day! By now, it's 5:30pm and thankfully it's the last few shots that needs to be taken for the very long day.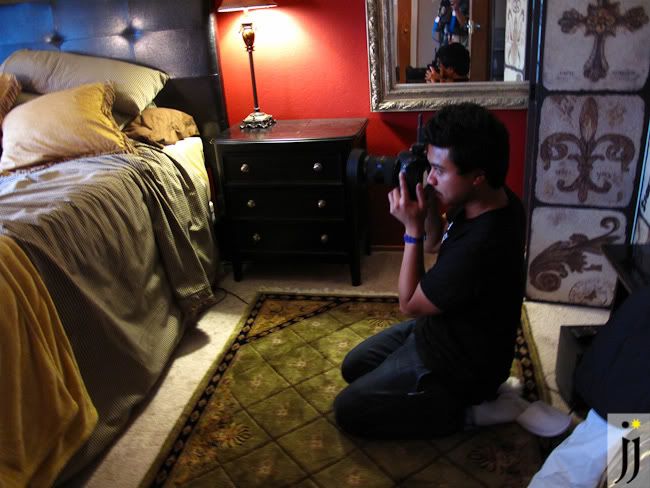 Above is me taking test shots before Jane is photographed... stay tuned for the full photos and what I'm naming "Story-Spreads" once I get them past post-production.
Thanks again to everyone's talents, time, and participation to this shoot. It was a great collaboration effort and it was definitely a pleasure working with Karen [whom I've worked with before], the usuals John and Nicole of MotionScope Studies, the "newbie" Rina", and of course the talented Jessica and Agnes of My BF Closet!